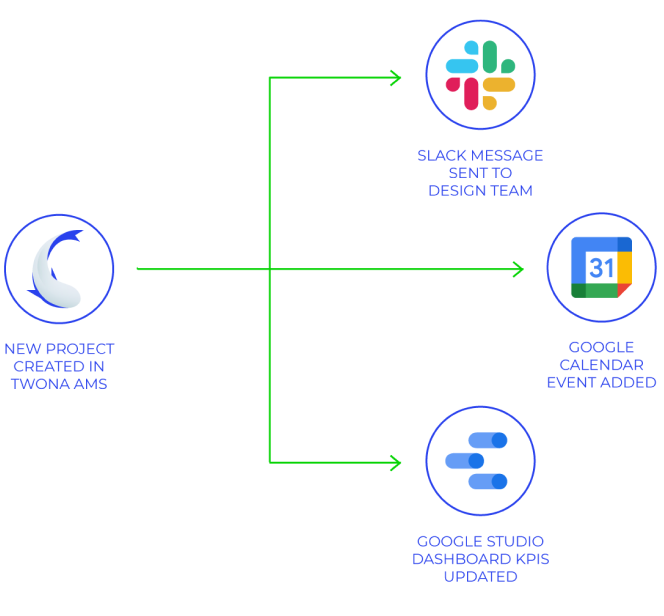 Having an effective process is a major goal of most organizations. We know to reach that goal, you use other systems that support or extend your design management processes. And that is fine! Twona AMS ticks many boxes towards achieving effectiveness, and if you implement some of these tips you may be able to reach that goal even faster.
Transferring data within the system or across systems without having to manually do so – sounds good, does it not?
1. Automatic version status update when project stages changes
Imagine that your team has reviewed a document version and has added comments to it. This actually means that the version reviewed is rejected, and a new one will need to be created. You can decide to manually mark it as such before you move the project to the team responsible for the needed changes, or better yet you can build a rule in Twona AMS that will do this for you.
Here is an example of a similar rule.

You may need to adjust this to your internal naming, and you may have a specific use case for a different action. If you need some help to build this, just make sure to contact us!
2. Create a Trello/Monday/Asana card/task when a project reaches a specific milestone
Does your company use some of these popular project management systems ? Then it may be clever to automate the creation of a card when a design is completed and ready to launch so that marketing can start creating their campaigns, or so that the design team can receive the feedback on the design and create a new version (if we want to follow the previous example).
Using the power of Zapier, we are able to integrate Twona AMS with these tools and connect two worlds with just a few clicks.
You can use the predefined workflow for Trello (or other tool you use), or create your own.

3. Notify users when a project reaches a specific status
Some users may need to be alerted when a project is ready for them to take action, such as creating a design based on the briefing, reviewing and approving, or collecting extra information.
If the user does not keep Twona AMS open at all times, you may want to create a notification to inform them that there is an action for them to complete. Notify your users where THEY are most likely to see it. You can choose to do it to a Slack channel, a Google Chat (Room) and/or a good old email.

These are just a few ideas of how you can automate your process and become more efficient. If you have any other ideas, or suggestions, make sure to share those with me!