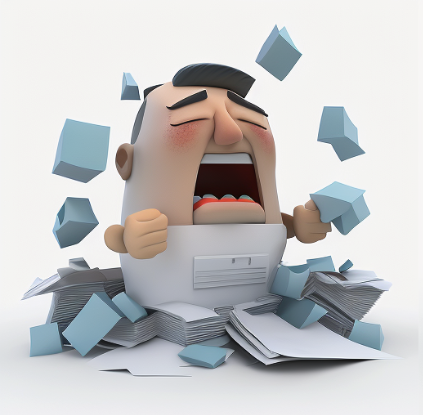 Design briefs are essential for creative projects as they help set clear expectations and define the scope of work. However, working with a design brief that has missing (or useless) information such as low-quality images can be a significant challenge. Below you will find the key challenges faced when working with an incomplete design brief and obtain tips on how to create a clear and comprehensive brief.
You must read this if you are a customer

Every designer in the world
The classical challenges
One of the major challenges of working with a design brief that has missing information is the lack of clear guidelines. This often leads to confusion and misinterpretation, resulting in a final product that does not meet the client's expectations. For example, if the brief does not include all the reference files or text documents, the designer may struggle to understand the client's request and produce an artwork that is not in line with their requirements.
Another common mistake is the use of low-quality (or low-resolution) images. When the final design needs to be printed, such as packaging materials for like…..everything that is sold, the images provided to the design team need to have sufficient resolution for the required printing size and method (SPOT and Digital Printing can be different). This not only affects the quality of the final product but also the reputation of the designer and the company they work for. Although, in all likelihood, your designer will probably have to reject the job and ask for better images.
5 things you need to do as a customer
It is of the outmost importance to create a clear and comprehensive design brief that includes all relevant information. Here are five tips to help make the brief clear:
Include clear brief information: The brief should include a clear and concise description of the project's goals, technical specifications and in general the desired outcome. This will help the designer understand the client's vision and ensure that they are on the same page. Do not make it more difficult that it needs to be….more is not always better.
Add up-to-scale dielines: Dielines are essential for product design, as they provide a template for the designer to follow when creating the final product. This is particularly critical for packaging materials since it will most likely be the input of a packaging machine when mistakes can be very costly. By including up-to-scale, clean and usable dielines in the brief, the designer can ensure that the final product will meet the client's technical specifications. If you think a blurry scan of a dieline is good enough…..think again.
Include all text documents: The brief should include all text documents that are relevant to the project, such as product descriptions, marketing materials, regulatory texts, and any other content that will be used in the final product. The designers cannot read your mind, they cannot possibly know all the details of the regulatory bodies of the many countries where you are releasing and have no insight on your company's strategies. Don't make it difficult, make it nice. If a text needs to be included, please add a readable document that can be copy-pasted (designers do not type).
Add clear and precise annotations: Sometimes the best way to convey an idea is by annotating an existing document indicating any specific requirements or requests that the client has. Be like water, be clear.
Include all relevant references of essential information: The brief should include references to any essential information that the client feels is important, such as brand guidelines or examples of similar products. If it takes time to find those documents, better do it before hand.
Working with an incomplete design brief can be a significant challenge for designers, but with the right tools and tips, it can be overcome. Remember, too much information is just as bad as too little information, so be sure to strike the right balance and keep the brief concise, yet comprehensive. And always remember, a good design brief is like a GPS – it helps you reach your destination with ease!