Perspective Correction Algorithm for Cell Phone Photography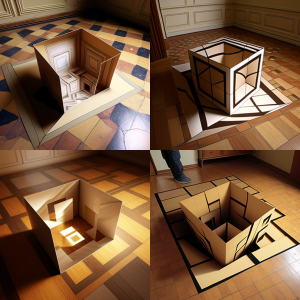 Cell phone photography has become increasingly popular in industrial and business applications in recent years, with the increase in resolution, accuracy and connectivity. One of the biggest challenges with cell phone photography when applied to Quality Control is correcting the perspective of an image. This is especially important when comparing a master design file with a printed a packaging material. A perspective correction algorithm can be used to address this issue.
The perspective correction algorithm is a software-based solution that adjusts the perspective of an image to make it look as though it was taken from a straight-on angle (thus, correcting the perspective distortion). This is achieved by identifying key points in the image, such as the corners or the edges of a packaging material, and adjusting the image to align these points. The process follows a set of determined steps:
Extract key points on both the design and the photo
Match those points to identify corredpondance
Calculate the required transformation
Modify the photography according to the calculated parameters to obtain a corrected image
The use of a perspective correction algorithm is especially important when overlaying a cell phone photo on a packaging design. This can be particularly useful when comparing a master design file (the artwork) with a photography taken with a cellphone of the printed material before it goes into full production. Being able to identify wether the approved master artwork corresponds exactly with the printed material helps reduce (or even eliminate) the risk of printing a packaging material from an un-approved or modified version. This sometimes happens when a stakeholder takes the liberty to modify an artwork for technical reasons and by mistake, something else goes amiss.
Content-based quality checks on printed packaging are crucial to avoid product recalls.

Every Quality Person in the world
There are industrial applications that involve in-line high resolution cameras to compare printed materials with master files. However, they are usually applied for Quality Control on already approved files. Therefore, being able to check before giving the green light for production on a print proof file has tremendous value, specially for highly regulated environments.
If you want to know more about how the perspective correction algorithm works, don't hesitate to get in touch and we will be happy to chat with you. In the meantime, just to prove this is possible and valuable, you can see how the algorithm works with a really difficult case.